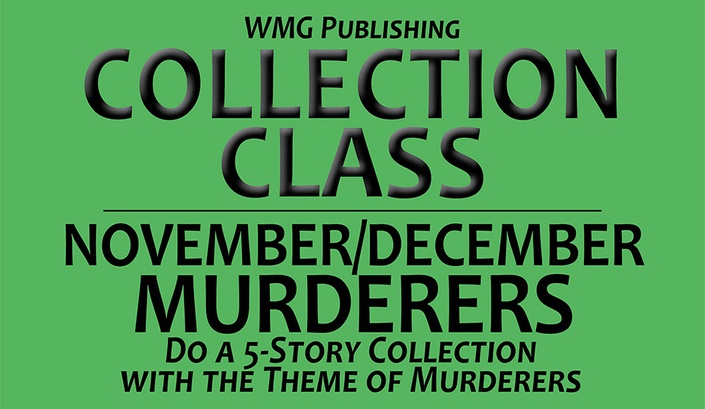 Murderers Collection Class November December 2023
Do a Five-Story Collection Based on the Theme of Murderers.
Collection Class Series in general...
The goal in nine weeks is to write and create and publish a five story collection based on a certain theme. Here in general is the layout of all nine weeks.
Week #1... General stuff about collections and the topic of the class. Assignment will be to come up with a number of possible titles and tag lines for your collection that you will be working toward.
Week #2 through Week #6... Videos about the theme of each class and each assignment will be to write a short story. Five stories in five weeks. (I will give you a bunch of prompts each week that fit the topic of the collection, but no requirement you follow any of them. They will be there just to help.)
Yes, I will read all the stories, but not for critique reasons, but to help you shape your collection. Meaning I will read each story when all five are turned in to tell you my opinion on which story to start with, which story should be put in the middle, which story to end with, and so on. Ultimately your decision, of course.
So you will get my feedback after Week #6 (not each week) on how to arrange the stories and Week #6 will, in general, talk about all the varied reasons for story arrangements in different genres and types of collections. (More to it than you would think.)
Week #7... Videos on the reason and how to write collection introductions and story introductions on each story and the assignment will be to write that and the back cover copy for your paperback edition.
Week #8... Covers and all the details. You will do a cover for me to help you with and check. Also pricing discussions.
Week #9... Videos on all the aspects of publishing a collection and the assignment will be that you will show me proof for the assignment (a link) that you have published your collection.
So in two months you go from nothing to a collection published, detail by detail, focusing on a certain subject.
Workshop Schedule...
Each workshop topic and theme will repeat every two months. There will be just a little similarities between the themes, but you could take all six Collection Classes in a year and learn a lot about each theme and how to put a collection together in that theme. So very different, even though same ultimate goal for each class.
A Challenge As Well...
If you sign up and write all five stories, do a cover, and do all the assignments and produce a collection at the end, that is a total win. And to add an extra reward for doing that, I will give you your choice of any Pop-Up class worth $150.00. A bonus for the win. But every assignment must be hit for all nine weeks.
MURDERERS THEME... November and December, 2023.
Creatures of all types are a staple of all mystery horror, romance, and science fiction, and can be used in many, many sub-genres. They are great fun to write.
This workshop starts on Tuesday, November 7th and runs for nine weeks with assignments due each week on Sunday evening.
Your Instructor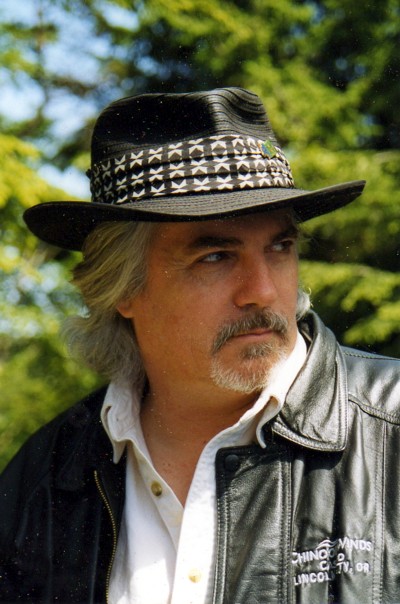 With over twenty-three million copies of his books in print, USA Today bestselling writer Dean Wesley Smith now brings you original fiction every month for the past three years in his own magazine, Smith's Monthly.
Dean wrote over twenty-five original Star Trek novels, the only two original Men in Black novels, plus Spider-Man, X-Men, Iron Man novels, and others. He wrote many gaming novels including Final Fantasy.
He wrote novels and stories under almost fifty pen names and did scripts for Hollywood as well as being an editor for various magazines. He lives in Las Vegas with his wife, writer Kristine Kathryn Rusch. You can follow his writing life at www.deanwesleysmith.com
Course Curriculum
Introduction to the Murderers Stories Collection Class
Available in days
days after you enroll
Week #1... Murderers Collection
Available in days
days after you enroll
Week #2... Murderers Collection
Available in days
days after you enroll
Frequently Asked Questions
When does the course start and finish?
For lectures and classic workshops, the course starts now and stays on your dashboard for as long as you like! They are completely self-paced online course - you decide when you start and when you finish. For the monthly regular workshops, each has a start date and each week's lectures will appear on the same day. After the course is finished it will remain on your dashboard for as long as you like.
How long do I have access to the course?
How does lifetime access sound? After enrolling, you have unlimited access to this course for as long as you like - across any and all devices you own.
How do I contact someone about a course?
If you have any questions at all about anything in a course, simply email dean with the word "workshop" in the subject line. His email is
[email protected]