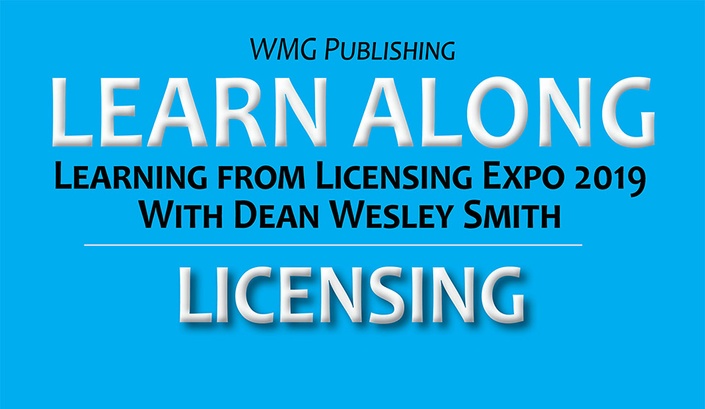 Learn Along 2019 Licensing Expo
Taking a Deep Dive into the Licensing Universe with Dean
Learn Along with Dean in the 2019 Licensing Expo
This is a one-of-a-kind thing. Not a workshop, not a lecture, not a study along.
For almost two months before the 2019 Licensing Expo, Kristine Kathryn Rusch and I have been preparing to attend. Kris walked part of the floor last year with a friend and realized at once that we (and WMG Publishing) needed to attend in full learning mode this year. So we have been getting ready. (You can't believe how much we have done in the last month or so.) In fact, just today, as I type this, I delivered a number of things to a printer to be ready for the Expo.
(All preparations explained and detailed out in this Learn Along.)
Why are we so focused on this Expo? Over 16 thousand licensees, retailers, and manufactures attend from 65 countries.
What is licensing? That is what you do with your intellectual property to make money from it. For example, when you put a book on Kindle, you are licensing a certain right to them. All movies, television, publishers, games, toys, distributors, and everything else deals in licenses. And all those companies who license will be at the 2019 Licensing Expo, the largest Licensing Expo in the world.
We attended the CES in January here in Las Vegas and a month later I could barely remember anything from it, even though we both learned a lot and saw a lot. But Kris remembered much of it. Why? Because Kris took great notes and then blogged about it for a while. I took no notes. Collected flyers and other information, sure, but I was not prepared for the scope of the event in the slightest. Or how to retain the vast amounts of information flowing around me.
So today, at lunch with Kris, I decided that I was not going to make that mistake with the Licensing Expo, which is a thousand times more important to writers and small publishers than CES. And might make us millions.
Kris and I are walking into a firehose of information at the Licensing Expo. And we have spent a few months preparing. But as we were talking today, I realized that the best way, the very, very best way for me to really remember all the things from this Expo would be to not only write it down, but try to have what I am seeing and learning make sense to others, both before, during, and after.
And thus, over a great steak sandwich, this unique Learn Along idea was born. (Kris and I are dangerous over lunch.)
THREE SECTIONS
The Preparation section.
The Actual Event section.
After the Event section.
Each section will have numbers of videos of me talking about things I learned, concepts about licensing, and so many other things I can't list them all. Each section will also have files with things like flyers, both ones Kris and I did and flyers and information from the Expo that I will scan in and share.
This will have a lot of videos and a ton of other information.
DETAILS OF THE LEARN ALONG...
Sorry, this is not a workshop, a Pop-Up, a lecture, or a Study Along. This is a one-of-a-kind event. So no credits from those others apply I'm afraid. And this will not be in any lifetime subscription either.
And if you sign up, you can look at it all later in the year if you want. Once you sign up, the information and learning and lessons will remain. So if you are busy here in the Time of Great Forgetting, just sign up and come back to it later. I will close off sign-ups at some point.
Price is $200.
--I will start posting videos and information on the 28th of May. All the preparation section will be finished by the start of the conference on the 4th of June. (It is stunning how much we have already done.)
-- I will post videos and some updates during the conference, and a number for days afterwards to actually fill in the Actual Event section. During the three days I will be crazy busy, and I will be exhausted, that is why the Actual Event part will stretch through that entire week. (Got a hunch it will take me a week or more to recover.)
-- Then over the next number of weeks I will post more and more details about the after affects of the conference. And will also post updates on any kind of learning we continue to have for the next number of months.
THERE ARE NO ASSIGNMENTS but I will answer questions, of course, from those in the Learn Along.
Attend the 2019 Licensing Expo without all the expense.
If you want a sense of the Licensing Expo, go to www.licensingexpo.com
Join me for a ton of learning. And who knows, maybe make yourself a ton of money down the road as well by learning how to license your own IP.
Your Instructor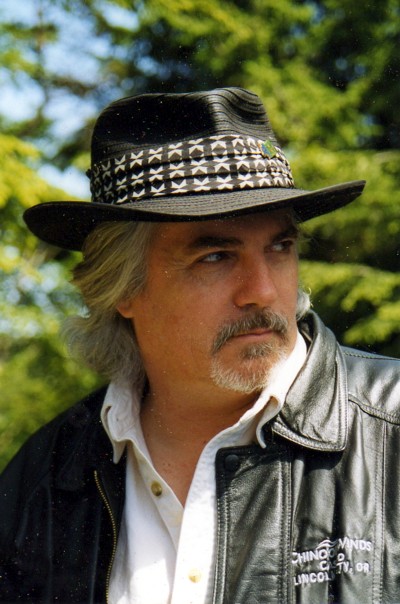 With over twenty-three million copies of his books in print, USA Today bestselling writer Dean Wesley Smith now brings you original fiction every month for the past three years in his own magazine, Smith's Monthly.
Dean wrote over twenty-five original Star Trek novels, the only two original Men in Black novels, plus Spider-Man, X-Men, Iron Man novels, and others. He wrote many gaming novels including Final Fantasy.
He wrote novels and stories under almost fifty pen names and did scripts for Hollywood as well as being an editor for various magazines. He lives in Las Vegas with his wife, writer Kristine Kathryn Rusch. You can follow his writing life at www.deanwesleysmith.com
Frequently Asked Questions
When does the course start and finish?
For lectures and classic workshops, the course starts now and stays on your dashboard for as long as you like! They are completely self-paced online course - you decide when you start and when you finish. For the monthly regular workshops, each has a start date and each week's lectures will appear on the same day. After the course is finished it will remain on your dashboard for as long as you like.
How long do I have access to the course?
How does lifetime access sound? After enrolling, you have unlimited access to this course for as long as you like - across any and all devices you own.
How do I contact someone about a course?
If you have any questions at all about anything in a course, simply email dean with the word "workshop" in the subject line. His email is
[email protected]